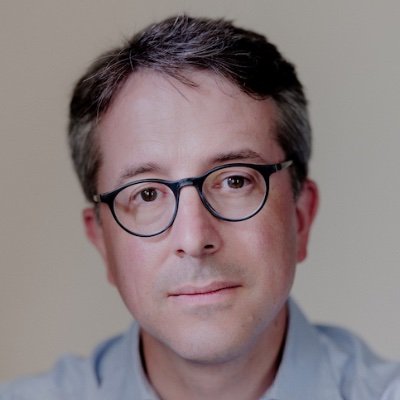 Benedict Evans
Trying to work out what's going on, and what happens next. Mostly tech.

'
20+ Book Recommendations by Benedict Evans
@justinspratt A good primer... https://t.co/e48h5tFikM

If you're going to read one book about Hollywood, this is the one. As co-founder of Creative Artists Agency (CAA), Michael Ovitz earned a reputation for ruthless negotiation, brilliant strategy and fierce loyalty to his clients. He reinvented the role of the agent and helped shape the careers of hundreds of A-list stars and directors, including Steven Spielberg, Martin Scorsese, Meryl Streep, Sean Connery, Steven Seagal, Bill Murray, Robin Williams and David Letterman. But this personal history is much more than celebrity friendships and bare-knuckled deal-making. It's an underdog's story: How did a kid with no connections work his way into the William Morris mailroom, and become the most powerful person in Hollywood? How did a superagent also become a power in producing, advertising, mergers & acquisitions and modern art? And what were the personal consequences of all those deals? After decades of near-silence in the face of intense controversy, Michael Ovitz is finally telling his whole story in this blistering, unforgettable memoir.

@fredwilson @aweissman Hence the book https://t.co/SibdWwJeVs

With an introduction by the architectural critic Hugh Pearman, this reference analyzes 30 bridges around the world that display the most cutting-edge architectural and engineering trends in late 20th-century bridge construction. Each bridge is displayed in full, lavish color, while the accompanying text, drawings, and details demonstrate how the bridge is constructed and what innovative design and engineering features it incorporates. Projects range from the 5,328-foot Great Belt Link in Denmark to the covered-tube walkway designed for the Plashet Grove School in East London, from the Charles River Mainline Bridge in Boston, Massachusetts, to the Roosevelt Lake Bridge in Phoenix, Arizona. Plus, readers will find dozens of other projects by such internationally renowned architects and engineers as Jürg Conzett, Future Systems, T. Y. Lin, I. M. Pei, Modjeski and Masters, WilkinsonEyre Architects, and many others.

NEW YORK TIMES BESTSELLER * The magnum opus and latest work from Svetlana Alexievich, the 2015 winner of the Nobel Prize in Literature--a symphonic oral history about the disintegration of the Soviet Union and the emergence of a new Russia NAMED ONE OF THE TEN BEST BOOKS OF THE YEAR BY THE WASHINGTON POST AND PUBLISHERS WEEKLY NAMED ONE OF THE BEST BOOKS OF THE YEAR BY THE NEW YORK TIMES * THE WASHINGTON POST * THE BOSTON GLOBE * THE WALL STREET JOURNAL * NPR * FINANCIAL TIMES * KIRKUS REVIEWS When the Swedish Academy awarded Svetlana Alexievich the Nobel Prize, it cited her for inventing "a new kind of literary genre," describing her work as "a history of emotions--a history of the soul." Alexievich's distinctive documentary style, combining extended individual monologues with a collage of voices, records the stories of ordinary women and men who are rarely given the opportunity to speak, whose experiences are often lost in the official histories of the nation. In Secondhand Time, Alexievich chronicles the demise of communism. Everyday Russian citizens recount the past thirty years, showing us what life was like during the fall of the Soviet Union and what it's like to live in the new Russia left in its wake. Through interviews spanning 1991 to 2012, Alexievich takes us behind the propaganda and contrived media accounts, giving us a panoramic portrait of contemporary Russia and Russians who still carry memories of oppression, terror, famine, massacres--but also of pride in their country, hope for the future, and a belief that everyone was working and fighting together to bring about a utopia. Here is an account of life in the aftermath of an idea so powerful it once dominated a third of the world. A magnificent tapestry of the sorrows and triumphs of the human spirit woven by a master, Secondhand Time tells the stories that together make up the true history of a nation. "Through the voices of those who confided in her," The Nation writes, "Alexievich tells us about human nature, about our dreams, our choices, about good and evil--in a word, about ourselves." Praise for Svetlana Alexievich and Secondhand Time "The nonfiction volume that has done the most to deepen the emotional understanding of Russia during and after the collapse of the Soviet Union of late is Svetlana Alexievich's oral history Secondhand Time."--David Remnick, The New Yorker "Like the greatest works of fiction, Secondhand Time is a comprehensive and unflinching exploration of the human condition. . . . In its scope and wisdom, Secondhand Time is comparable to War and Peace."--The Wall Street Journal "Already hailed as a masterpiece across Europe, Secondhand Time is an intimate portrait of a country yearning for meaning after the sudden lurch from Communism to capitalism in the 1990s plunged it into existential crisis."--The New York Times "This is the kind of history, otherwise almost unacknowledged by today's dictatorships, that matters."--The Christian Science Monitor "In this spellbinding book, Svetlana Alexievich orchestrates a rich symphony of Russian voices telling their stories of love and death, joy and sorrow, as they try to make sense of the twentieth century."--J. M. Coetzee

(This is a book to read in small doses) https://t.co/EwQ88JnU0N

An inside story of the Chrysler Corporation details the history of the automobile manufacturer, its critical problems, and Iacocca's attempts to turn the dying company around

Past lives https://t.co/5bcJzoF0Td

Memento mori https://t.co/bbrqoH7geB

How do dealers price contemporary art in a world where objective criteria seem absent? Talking Prices is the first book to examine this question from a sociological perspective. On the basis of a wide range of qualitative and quantitative data, including interviews with art dealers in New York and Amsterdam, Olav Velthuis shows how contemporary art galleries juggle the contradictory logics of art and economics. In doing so, they rely on a highly ritualized business repertoire. For instance, a sharp distinction between a gallery's museumlike front space and its businesslike back space safeguards the separation of art from commerce. Velthuis shows that prices, far from being abstract numbers, convey rich meanings to trading partners that extend well beyond the works of art. A high price may indicate not only the quality of a work but also the identity of collectors who bought it before the artist's reputation was established. Such meanings are far from unequivocal. For some, a high price may be a symbol of status; for others, it is a symbol of fraud. Whereas sociological thought has long viewed prices as reducing qualities to quantities, this pathbreaking and engagingly written book reveals the rich world behind these numerical values. Art dealers distinguish different types of prices and attach moral significance to them. Thus the price mechanism constitutes a symbolic system akin to language.

@sippey https://t.co/cjL9W2V7pr

If you want to outsmart a crook, learn his tricks—Darrell Huff explains exactly how in the classic How to Lie with Statistics. From distorted graphs and biased samples to misleading averages, there are countless statistical dodges that lend cover to anyone with an ax to grind or a product to sell. With abundant examples and illustrations, Darrell Huff's lively and engaging primer clarifies the basic principles of statistics and explains how they're used to present information in honest and not-so-honest ways. Now even more indispensable in our data-driven world than it was when first published, How to Lie with Statistics is the book that generations of readers have relied on to keep from being fooled.

There is, of course, a whole book about this. https://t.co/hOldl4xxFz

Composed of paper, commercial packaging and the stuff of everyday life, Bodys Isek Kingelez's 'extreme maquettes' transform these materials into fantastic visions that encompass civic buildings, public monuments and private pavilions. Published to accompany the first retrospective of his work, this book traces the span of Kingelez's career, from early single structure works included in Centre Pompidou's landmark 1989 exhibition, Magiciens de la terre , to the complex and multifaceted cities he made in the 2000s, bringing his rarely seen, distinctive oeuvre to American audiences. Featuring new photography of his work, this is the most comprehensive volume on the artist to date.

8: Bodys Isek Kingelez: catalogue from the MOMA show. So great. https://t.co/sNfygLjPbk

First impressions count, especially in Milano. In this unprecedented photographic journey, editor Karl Kolbitz curates 144 of the finest Milanese entrance halls from 1920 to 1970. Sumptuous in diversity and splendor, the volume features some of Milan's most famous architects, from Gio Ponti to Piero Portaluppi, and showcases the city's design...

3: Entryways of Milan. (Yes, on everyone's list, but for a reason). 😯 https://t.co/UwjGqhFcOW

Chris Moore is the undisputed king of catwalk photography. His six-decade career includes images of all the iconic catwalk shows because he was at them all. This is the ultimate and only edit of Moore's work throughout his career and covering the changing face of the catwalk. Covering each of the decades images are accompanied with essays by award-winning fashion critic Alexander Fury, based on extensive interviews with Moore, exploring Moore's career along with key catwalk moments. From Coco Chanel's final show to Galliano's graduation, supermodels to showstoppers, McQueen to Versace and more Catwalking presents the definitive catwalk highlights captured by the man who has seen and shot it all.

A 2019 book thread. 1: Catwalking, by Chris Moore. Chris joined Vogue in 1954 and has been taking fashion show photos for as long as there have been fashion shows. (Also a family friend). https://t.co/83VQi6lZYP

'Worth far more than its cover price ... I wish I'd had it available to me when I was first looking for startup funding' -- Eric Rees Every startup needs capital, and ambitious startups seek it on Sand Hill Road – Silicon Valley's dream street for entrepreneurs. That's where you'll find the biggest names in venture capital, including the famed VC firm Andreessen Horowitz, where lawyer-turned-entrepreneur-turned-VC Scott Kupor serves as managing partner. Whether you're trying to get a new company off the ground or scale an existing business to the next level, you need to understand how VCs think. Secrets of Sand Hill Road is the first book that shows you exactly how VCs decide where and how much to invest. It will help you get the best possible deal and make the most of your relationships with VCs. You'll learn, for instance: -- Why most VCs typically invest in only one startup in a given business category -- Why the talent you need most when raising venture capital is your storytelling ability -- How to handle a 'down round', when you have to raise funds at a lower valuation than in your previous round -- Why bridge financing (reopening your last round to existing investors) is generally a bad idea -- What to do when VCs get too entangled in the day-to-day operations of your business -- Why you need to build relationships with potential acquirers long before you decide to sell Filled with Kupor's firsthand experiences, insider advice, and practical takeaways, Secrets of Sand Hill Road is the guide you need to turn yourstartup into the next unicorn.

I am not impartial, but @skupor book "Secrets of Sand Hill Road" is a great manual explaining the mechanics of venture capital in 2019. Especially useful for people outside the Silicon Valley ecosystem wondering why their angel investor wants 50% and a 3X liquidation preference

This is a book about Sir John Cowperthwaite - the man Nobel Prize-winning economist Milton Friedman identified as being behind Hong Kong's remarkable post-war economic transformation.

@_TamaraWinter @balajis Indeed. It's not a great book, but it's fascinating. https://t.co/G7dOsyKphF

THE TOP 10 SUNDAY TIMES BESTSELLER Shortlisted for the FT Business Book of the Year Award 2019 'Easily the most important book to be published this century. I find it hard to take any young activist seriously who hasn't at least familarised themselves with Zuboff's central ideas.' - Zadie Smith, The Guardian The challenges to humanity posed by the digital future, the first detailed examination of the unprecedented form of power called "surveillance capitalism," and the quest by powerful corporations to predict and control us. The heady optimism of the Internet's early days is gone. Technologies that were meant to liberate us have deepened inequality and stoked divisions. Tech companies gather our information online and sell it to the highest bidder, whether government or retailer. Profits now depend not only on predicting our behaviour but modifying it too. How will this fusion of capitalism and the digital shape our values and define our future? Shoshana Zuboff shows that we are at a crossroads. We still have the power to decide what kind of world we want to live in, and what we decide now will shape the rest of the century. Our choices: allow technology to enrich the few and impoverish the many, or harness it and distribute its benefits. The Age of Surveillance Capitalism is a deeply-reasoned examination of the threat of unprecedented power free from democratic oversight. As it explores this new capitalism's impact on society, politics, business, and technology, it exposes the struggles that will decide both the next chapter of capitalism and the meaning of information civilization. Most critically, it shows how we can protect ourselves and our communities and ensure we are the masters of the digital rather than its slaves.

@yudapearl There is a race (or turf war) to be the leading explainers/interpreters/critics of tech in general and 'AI' in particular, and some of it is about defining or inventing terms. See also book titles - 'Surveillance Capitalism', for example.

The author's famous tale of a Lithuanian family who emigrates to America and is destroyed by exploitation, crushing poverty, and economic despair.

As I talk to people about regulation of tech, I keep thinking about Upton Sinclair's book 'The Jungle'.

This is a book about Sir John Cowperthwaite - the man Nobel Prize-winning economist Milton Friedman identified as being behind Hong Kong's remarkable post-war economic transformation.

One of my favorite quotes of the last year: the finance secretary of HK in the boom years was opposed to collecting economic statistics because having them might tempt the government to try to manage the economy. https://t.co/rITc2Rgx6l

Au Bonheur des Dames is the glittering Paris department store run by Octave Mouret. He has used charm and drive to become director of this mighty emporium, unscrupulously exploiting his young female staff and seducing his lady customers with luxurious displays of shimmering silks, satins, velvets and lace. Then Denise Baudu, a naïve provincial girl, becomes an assistant at the store, and Mouret discovers that he in turn can be charmed. With its vivid portrayal of greedy customers and gossiping staff, its lavish descriptions and sense of theatre, Au Bonheur des Dames is a rich and exciting novel. The eleventh in Zola's great cycle Les Rougon-Macquart, it is a timeless commentary on modern consumer society.

Zola explains loss-leaders in retailing, 1883. https://t.co/ALDMranNQi

The only comprehensive collection of German recipes - from authentic traditional dishes to contemporary cuisine Germany is made up of a series of distinct regional culinary cultures. From Hamburg on the north coast to Munich in the Alpine south, and from Frankfurt in the west to Berlin in the east, Germany's cities and farmland yield a remarkable variety of ingredients and influences. This authoritative book showcases this diversity, with 500 recipes including both beloved traditional cuisine and contemporary dishes representing the new direction of German cooking - from snacks to desserts, meat, poultry, and fish, to potatoes, dumplings, and noodles. An introduction showcasing the culinary cultural history of the country introduces the origins of the classic recipes. These recipes have been tested for accuracy in a home kitchen, making them fully accessible to a wide range of cooking abilities. Icons indicate everything from vegetarian, gluten-, and dairy-free options to recipes with five ingredients or fewer and simple one-pot dishes. The German Cookbook is the latest in Phaidon's bestselling series of authoritative cookbooks on global cuisines.

#veryshortbooks https://t.co/BFL6zEm7hE

The attack on London between 1939 and 1945 is one of the most significant events in the city's modern history, the impact of which can still be seen in its urban and social landscapes. As a key record of the attack, the London County Council Bomb Damage Maps represent destruction on a huge scale, recording buildings and streets reduced to smoke and rubble. The full set of maps is made up of 110 hand-coloured 1:2500 Ordnance Survey base sheets originally published in 1916 but updated by the LCC to 1940. Because they use the 1916 map, they give us a glimpse of a 'lost London', before post-war redevelopment schemes began to shape the modern city. The colouring applied to the maps records a scale of damage to London's built environment during the war - the most detailed and complete survey of destruction caused by the aerial bombardment. A clear and fascinating introduction by expert Laurence Ward sets the maps in the full historical context of the events that gave rise to them, supported by archival photographs and tables of often grim statistics.